Culture on Cape Verde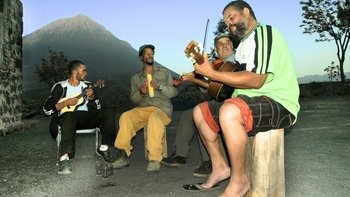 Music
Traditional music is very popular and plays an important role in the everyday life in Cape Verde.
Music is as important to Cape Verdeans as "breathing air" and is an expression of their way of life. Its origins come from Portugal, Brazil and Africa.

There are three main musical directions (Morna, Funana, Coladeira) which are distinguished by the theme of the lyrics, as well as by rhythm, instruments and melodies.

Musicians usually do not earn enough money to make a living, so they need to have second jobs. While Mindelo is the centre of traditional music, Praia is the centre of the modern music scene where original Cape Verdean pop music is played on numerous stages. Well-known rappers have their origins in Santiago.

The most famous musician of Cape Verde - Cesária Évora - received the Grammy for world music in 2004 and all of a sudden Cabo Verde became popular abroad.
She died in her house in Mindelo in 2011. Subsequently, the international airport of São Vicente was renamed after her.
In order to give you a taste before your holiday, or you want to listen to typical music after you return from the islands, we have compiled a mixture of the most famous songs of the country.
The songs and performers are as diverse as Cape Verde itself - have fun on this musical journey.
LISTEN TO MUSIC FROM CABO VERDE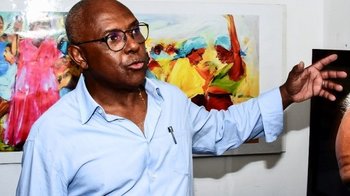 Culture
The small country of Cape Verde has a surprising number of free spirits in the fields of literature, painting, theatre, music and sports who have achieved international fame.
The creations of the artists are shaped by the connection to the islands, by everyday topics, by spirituality and also the enthusiasm for sports. The long-time reigning world champion Mitú in freestyle kite surfing comes from the island of Sal. The people here are generally very enthusiastic about sports.
Many graffiti and street art turn the cities into colourful places, many ateliers are offering pottery and weaving products, traditional plaited baskets are offered on the local markets. Creative costumes and carnival parades show the vitality of the people as well as reflecting the multi-cultural scene.
The music style "Morna" has been acknowledged as UNESCO cultural heritage.
The Cape Verdean groove can be experienced at many music festivals, such as Praia de Gamboa (Praia) in May, Baia das Gatas (São Vicente) in August and the Festival of Santa Maria (Sal) in September. Many smaller festivals in individual villages throughout the year show the strong connection of the people to their musical tradition.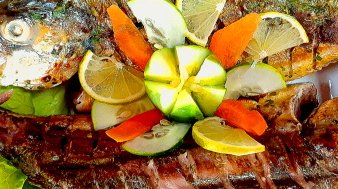 Culinary Art
The Cape Verdean dishes usually consist of locally grown products and fresh fish or meat - mainly young goat ("Cabrito") or chicken ("Galinha de terra").
Local cuisine is very simple, but tasty. Seasonality, catch of the day, rainfall and money determine the meal plan.
The national dish is the cachupa, a blend of corn and beans enriched with small pieces of fish or meat and the feijoada, a kind of bean stew. Surely, you should try fresh fish ("Peixe") as there are many species that can barely be found in Europe.
There are further famous local products that you should try: Goats cheese from Fogo or Santo Antão, wine and coffee grown in the lava ash at the foot of the volcano on Fogo, sugar cane "Grogue" from São Nicolau and many more. Each island has its own local dishes and specialties.
If you have specific dietary requirements it is advisable to bring your own products from home as some ingredients and products are not possible to find in Cape Verde.
Here we have compiled some traditional local dishes for you to cook - tasty and typical Cape Verdean fish dishes.
We hope you will enjoy! Many thanks to our Cape Verdean friends who provided us with the recipes

---