Sal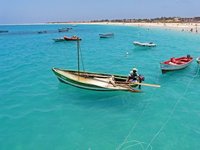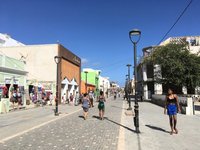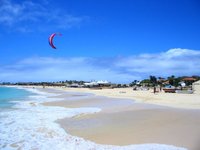 ---
---
Sal (en: "salt") is almost perfectly described – hardly any vegetation or animals can be found here. The island, popular with beach goers, is very flat, windswept and offers miles of beautiful, white sandy beaches as well as the crystal clear turquoise Atlantic Ocean. The highest peak is only 406 m above sea level. The main towns of the island are the capital Espargos and the upcoming touristy town of Santa Maria in the south. As well as being the location of most of the hotels on the island it is here that you will also find a variety of local shops, restaurants and bars to visit.
The 'windy season' from October to March, the year-round warm climate and the pleasant water temperatures characterize Sal as an Eldorado for water sport enthusiasts and sun worshippers.
Kite surfers, surfers and windsurfers have discovered the island and made it their own. Annual competitions are held here on an international level. In June, the African Beach Games take place on Sal, attracting around one thousand participants from over 50 African countries.
Music lovers can experience the Sal Music Festival in September. Over the weekend the beach of Santa Maria becomes a musical hive of activity where a good atmosphere is guaranteed.
The old salt loading pier "Pontão" with its restored salt weighing building in Santa Maria, reminds us of former prosperous times when salt extraction was a key industry. Popular sightseeing destinations are the salt mines in Pedra Lume, situated in the crater floor and the "blue eye" at Buracona.
---