Fogo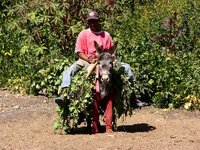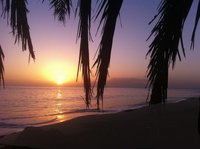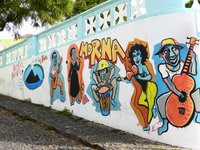 ---

Wine growing in lava ash
In the area around the volcano the fiery Fogo wine is cultivated. A wine tasting or a taste of the local liquors and grog is an absolute highlight on your visit.

Already find a taste in this video…
---
The island of Fogo (en: "fire") is a purely volcanic island, characterized by wild dramatic scenes of different coloured basalt and magma streams. Dark lava beaches and caves come together with tropical vegetation and meadows whilst grapevines, banana and coffee plantations in the northeast provide visitors with a peculiar mixture of everything.
At an altitude of approximately 1,600 m, the crater landscape of Chã das Caldeiras is the highest inhabited settlement on Cape Verde.
The 2,829 m high stratovolcano Pico do Fogo, which is under special protection as a Parque Natural, last erupted in November 2014. The lava that flowed as a result of this eruption buried large areas of Chã das Caldeiras and the two villages Portela and Bangaeira. A considerable number of residents returned soon after the evacuation and began immediately to rebuild "their" new Chã in a unique atmosphere.
Nowadays, more places to stay can be found than prior the eruption.
The tasty Fogo grapes grow in the nutrient-rich and fertile lava soil around the volcano.
A wine tasting session is an absolute highlight in addition to visiting the lunar-like lava fields.
Unique and varied hikes in the caldera (some quite demanding via ferratas with dizzying heights), an endemic variety of plants - not to mention the ascent to the top of the volcano – all lead to an unforgettable experience on Fogo Island.

About half of the almost 40,000 inhabitants of the island live in the picturesque town of São Filipe, working mostly with fishing and agriculture. Located on a cliff line, São Filipe is considered to be the most beautiful town in Cape Verde. The old colonial buildings and the colourful well-preserved Sobrados (mansions), as well as the mile-long fine sandy inky lava beach Fonte Bila, give this place its special flair.
There is a road that circumnavigates the island and other small villages can be found along the coast, as well as the bigger city of Mosteiros. Fogo is almost circular with its 476 km² and is also considered as the hottest island of the archipelago.
---