Santiago
The first settlements in colonial times were here on Santiago, the largest island of the archipelago
---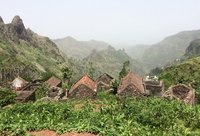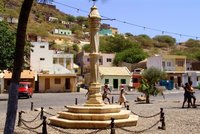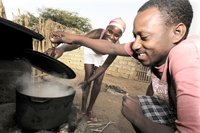 ---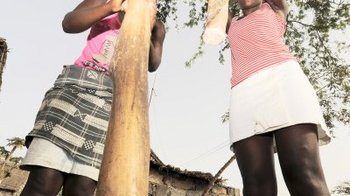 Daytrip Santiago
Exploring the African Island on a Shoestring
DAYTRIP SANTIAGO
---
Santiago with an area of 991 km² is the largest and most populated island of Cape Verde, almost half of the total population lives here.

The interior of the island is a mix of deep valleys and soaring peaks, the highest of which is Pico d'Antonia with an altitude of 1,392 m. Located amongst this amazing landscape you will also discover villages with local arts and craft centres as well as places of cultural and historical interest. Once again there are many trails for hikers and highlights include the Serra Malagueta National Park and the Parque Natural of Rui Vaz.
Assomada, the second largest city of Santiago, is located in the centre of the island and benefits from the highly agricultural land that surrounds it. Particularly worth visiting is the lively African market (open on Wednesdays and Saturdays).
Approximately 140,000 people live in the fast-growing capital Praia which sits on the southern coast of Santiago. Built in the 18th century, nowadays it is the economic and cultural centre of the country as well as being the location for the main government offices. The historic old town ("Plateau") is located on a picturesque high plateau; the pedestrainised area with many local shops and cafés is the perfect place to stroll around and watch the locals go about their daily lives.
At the "Kriol Jazz Festival" in April, Praia becomes a musical city in the middle of the Atlantic, a meeting place for the both the national and international jazz scene.
Well worth seeing and only 15 km away from Praia is Cidade Velha, built in 1462 as the first settlement in Cape Verde. This former capital was declared a UNESCO World Heritage Site in 2009. It used to be an important intermediate port on the African slave routes. The strategic location of the port facilitated an increase in human trafficking between Africa and the "New World" and Cidade Velha became a major hub during this time. A reminder of this sombre history is the Pelourinho (pillory)which dates from 1512 and still stands on the market square where slaves were traded. The old Portuguese fort of São Filipe, located above Cidade Velha, served as a defence against the repeated pirate attacks on this rich city and is also open to visitors.
Santiago offers the perfect mixture of history, culture and diverse natural experiences all on one island. This can all be combined with some days spent relaxing on a beach at the north western point. Here, the coastal village of Tarrafal invites to linger with its selection of diverse accommodation and its beautiful palm-fringed bay, perfect for swimming and snorkelling.
---