Recipes from Cabo Verde
Boa sorte na cuzinha
Original recipes from Cabo Verde
Here you will find some culinary inspiration from the Cape Verdean cuisine. The recipes have been written down by Cape Verdean women, and we have deliberately decided not to translate them in order to maintain their originality.
---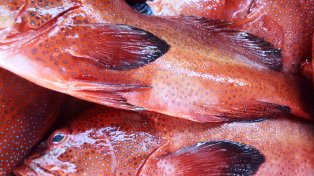 Caldo de Peixe

Obrigado Celina

Ingredientes para 4 pessoas:
1 kg de peixe garoupa de filet ( garoupa, de preferencia de cabeça como dizemos em Cabo Verde)
3 a 4 grãos de malagueta
2 tomates
1 colher de sopa de azeite
2 dentes de alhos
2 cabeças de cebolas
½ folha de louro
1 raminho de coentros ( para quem gosta)
1kg de batata inglesa
1kg de batata doce
½ kg de banana verde
½ kg de abóbora
½ kg de inhame
½ kg de mandioca
Farinha de mandioca
Sal a gosto
Preparação:
Numa panela grande põe-se a cebola cortada em rodelas, os alhos picados, louro, malagueta, tomate picado e azeite.Deixa-se refogar um pouco, e depois coloca-se os legumes descascados, cortados e lavados.( A banana verde é sempre descascada na água com sal, para tirar a nódoa.) Junta-se a água necessária.Quando os legumes estiverem quase cozidos, colaca-se o peixe que estava no tempero. Para engrossar o caldo rala-se a mandioca fresca na quantidade que se desejar, ou mistura-se um pouco de farinha de mandioca com um pouco de água e junta-se ao caldo.
Mexendo sempre com uma collher de pau para não pegar no fundo da panela.
Estando tudo cuzido, prova-se de sal e serve-se os legumes e o caldo numa tigela grande e o peixe em uma travessa.
Bom Apetite!!!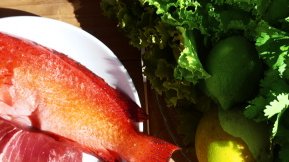 Receita de serra com molho de cocô
Obrigado Jakilin

Ingredientes:
1k de serra
400ml de nata
2 colheres de café de caril
1 konor um pontinha de sal

Preparação;
primeiro passo = tempera peixe sal e pimenta preta, depois deixa descansa 5 minutos depois grelhar com fogo baixo. Molho de cocô =Preparação: Numa panela piqueno coloca natas e caril e konor pontinha de sal mexer com fogo brando até chegar um ponto grossa ,durante 10 minutos. Acompanhamento de arroz branco e salada e legumes.
Bon apetite !

Note:
- you will most probably not be able to find "Serra" in Europe, therefore replace it with tuna, swordfish, jewfish or similar fish
- a "Konor" is a bouillon cube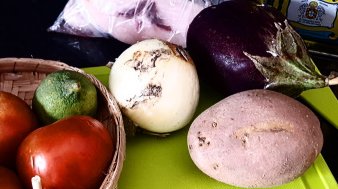 Receita de atum com molho de cerveja
Obrigado Cátia

Ingredientes:
500g de atum
2 dentes de alho
1 cebola picada
4 colheres de azeite
polpa de tomate 50ml
1 mini cerveja
pimenta preta e sal a gosto

Preparação:
tempere peixe com sal pimenta preta, depois colocar azeite no frigideira, coloca , cebola, alho ,polpa de tomate meixer um pouco deixa refogar por 5 minutos depois juntar peixe e cerveja deixar por 10 minutos ,servir com arroz, ou purê de batata.
---