Boa Vista
Ultimate recreation and adventure await you on the white-sanded island of Boa Vista
---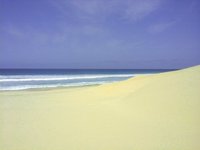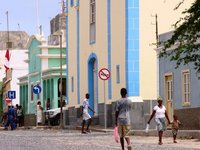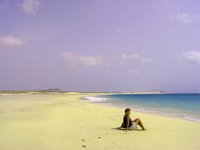 ---
---
Boa Vista (en: "nice view") is a sandy and relatively flat island; the astonishing and varied scenery is influenced by its geography and climate.
Boa Vista is surrounded by miles of white-gold and deserted sandy beaches such as Praia de Santa Monica in the southwest or Praia das Chaves in the western part of the island.
Due to this fantastic landscape, especially in the northern and western part of the island with shifting sand dunes, vast palm oases and desert sceneries the island is nicknamed "Sahara in the Atlantic".
Boa Vista is an ideal island for migratory birds passing by; depending on the season also whales and dolphins can be observed frequently (between March and May). Dune fields, date groves and the mini Sahara "Deserto de Viana" in the islands' inland are beautiful spots to visit.
The annual Boa Vista ultra marathon in November, the big festival in early July in honour of the patron saint and the music festival in Praia de Cabral in August attract many visitors.
After Sal, the island is becoming the second most popular tourist centre of the country. Individual hotels are mainly congregated around the main town of Sal Rei, which was only founded in the 19th century. Generous colonial buildings still remind visitors of former prosperous times when salt production brought economic wealth to Boa Vista.
Overall comfort is completed by hospitable locals and a nice selection of bars and restaurants.
---
Help us to support the turtle protection!
During the summer season the endless sandy beaches provide the nesting grounds for the strictly protected loggerhead sea turtle 'caretta caretta'. Almost 90% of the nesting activity on Cape Verde takes place on the island of Boa Vista.
Due to increased tourism on the sandy islands, sea turtles and their eggs are under serious threat. For this reason we support "Turtle Foundation", a local protection organization (www.turtle-foundation.org). The main objectives are - in addition to raising awareness and education work – providing nocturnal beach patrols to prevent the killing of turtles, to measure and chip the turtles, and to protect the eggs in special hatcheries.
---