SUMMER TRIP 2023
OUR RECOMMENDATION: SUMMER TRIP 2023
9-day culture and adventure tour to
Santiago, Fogo & Maio
Are you also ready for the island?

Then we have just the right thing for you: on this carefully designed island tour you will visit three of the ten inhabited Cape Verde Islands. Our south island trip tour takes you to the largest island Santiago with the capital Praia and the UNESCO World Heritage Cidade Velha, the fire island Fogo with the volcano Pico Grande and the still undiscovered beach pearl Maio. Distance and time out from everyday life with perfect travel organisation.

Santiago offers the perfect mix of history, culture and diverse nature experiences on one island. On the island of Fogo with the volcano and the highest mountain on the archipelago, unforgettable moments await you around and on the volcano. The white paradise of Maio is an oasis for beach lovers and those seeking peace and quiet.

With this summer trip we promise you carefree days and a varied programme. We have carefully selected the islands and accommodation for you.

The islands and we look forward to seeing you!
Interested? Then write to us!

"Txau e até já " as they say in Cape Verdean. See you soon!
---
HIGHLIGHTS/SERVICES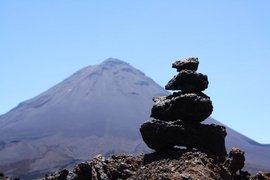 Crater hike in Chã das Caldeiras to the 2014 Pico Pequeno eruption crater
Wine and local speciality tasting on Fogo and Maio
City tour in: São Filipe - Praia - Porto Inglês
Cultural Tour Cidade Velha - UNESCO World Heritage Site
The hidden pearl of Maio with turtle watching
Beach walk on the island of Maio
Qualified local English speaking tour guides on 6 excursions/hikes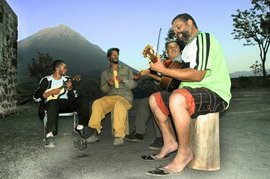 9 nights in a double room with bathroom (shower/WC)
Day room on departure day
9 x breakfast, 4 x lunch, 6 x dinner
Transfers and meals as per programme 24-hour German and English-speaking emergency number for your security
Domestic flights with regional airline including all taxes and fees as well as reconfirmation of flights
Local, English-speaking guides as per programme
Hotel tax
Free choice of dates with arrival in Santiago on Tuesdays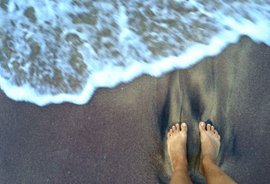 International arrival and departure
The obligatory tourist tax TAS (taxa de segurança do aeroporto) of 3,400 cve (or 30.80 EUR). This must be paid either in cash (exact amount) on arrival or in advance via the online system EASE.
Other expenses (tips, souvenirs, drinks, meals, etc.)
Fees for foreign bank transfer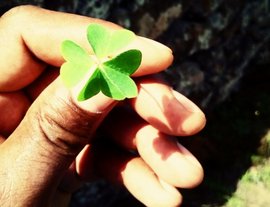 Per person: from EUR 1,650

based on 2 travellers in a double room
---
YOUR ACCOMMODATION

We prefer to use small and medium-sized accommodation that is either privately run or affiliated with a smaller chain. Our focus in the choice of accommodation is to ensure that most of the added value remains in the country. Cape Verdean hospitality and Creole joie de vivre are authentically conveyed to you in our selected ecolodges, guesthouses and comfort hotels.
---